You are here: Home Page > Shopping Home Page 

›

 Product
---
Music by Gairin Celtic Music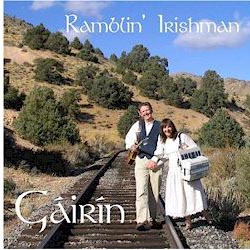 Catalog Number GAIRIN1RI
Ramblin Irishman by Gairin Celtic Music Audio CD
---
Gairin's popular Celtic music CD. First Edition Professional Quality Pressed Glass Cut Replication Processed CD.
NEW - In original packaging - Signed by the musicians!
This CD is a classic! You will find real gems here from the Celtic Tradition, beautifully done by the Aufrances whose voices blend in unmatched polyphonic harmony, accompanied by Irish bouzouki (octave mandolin), guitar and accordion.
You can listen to the tracks on this CD by searching for Ramblin Irishman by Gairin on Amazon, cdbaby and other music sales websites. Enter Ramblin Irishman by Gairin into Google where you can follow the search results, including Amazon's Sample This Album and other streaming apps.
Ramblin' Irishman Includes:
Favorite Most-Asked-For Celtic tunes, ballads, bar songs, heartfelt ballads and historical music, as well! A little bit of everything Celtic, but with Gairin's own style and vocal harmonies like no other.
Just as Gairin does the music in their shows, you'll hear lovely ballads juxtaposed next to "stompin' through the Scottish moor" music. That's why it's true that if you like Celtic music, you will find something you love on Ramblin' Irishman! A lot of the music came over on the boat from Ireland, Scotland and other Celtic lands. And, Gairin does it like no other, with their unique vocal harmonies that entranced listeners for many years at California Renaissance Festivals, Celtic Festivals and at Irish and Scottish heritage events in California and Nevada. Enjoy Tom's flair on Irish bouzouki, 6 & 12 string guitars and Mary Kay's charming accordion accompaniment.
Track List:
Ramblin' Irishman
The Ploughman
Planxty Irwin/Hewlett - Tune Set
Down by the Sally Gardens
Si Do Mhammo I (She's Your Granny) - Sung in Gaelic
The Jug of Punch
Galway Races / The Road to Listonvarna - Tune Set
Sorry the Day I Was Married
Tar Road to Sligo (Coleman's) - Tune
Are Ye Sleepin' Maggie / Dougie MacLean's Strathspey
The Parting Glass
Label: Aufrance Associates (Independently Published)
ASIN: B013TZ35M2
Average Customer Review: ***** 5 Stars out of 5 Thank You!
This is a "highest quality" Pressed CD:
This is a Pressed, Glass Cut or Replicated Disc. With pressed CDs, the manufacturer takes the master disc and creates a glass master. That glass master is then used to create a nickel stamper and polycarbonate substrates that are metallized. This process produces an exact replication of the original master, so this final product sounds exactly like that master. Therefore, this is "professional grade" - when you purchase a CD that has been released by a record label, it almost certainly is a pressed CD. Therefore, this CD is the highest quality and it is not a home made duplicated copy, duplicated disc, or burned CD.
About Gairin
This husband-and-wife folk duo got their start performing at Renaissance faires in California and Nevada, before they turned their musical attention to Celtic music. Find out more on the Gairin Music web site.
Item condition: NEW
UPC Code: 634479212888
Allow: 2-3 Days for delivery.

---
View more items by
Gairin Celtic Music