You are here: Home Page > Shopping Home Page 

›

 Product
---
Music by Gairin Celtic Music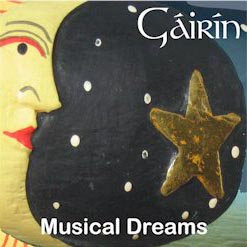 Catalog Number GAIRIN3MD
Musical Dreams CD Gairin - Tom And Mary Kay Aufrance
---
A collection of original songs and tunes by Gairin, plus a bonus! Inspired by dreams, the music is sometimes dreamy and then at other times the music is altogether bouncy! Sometimes very adult and then again childishly playful.

Wanting to include all the songs Mary Kay had written at the time, plus a few of Tom's tunes too, we packed 69 minutes of music into this little disc! On this CD the charming and uniquely blended vocals mix with folk mandolin, guitar, Irish bouzouki and accordion.
Track List:

Musical Dreams 3:03
Ain't No Easy 1:58
As Long as You are Mine Maid Behind the Bar set 2:16
Sleep Sings Along 3:01
Coyote Party 1:25
Amanda 4:33
Her Secret Mystery 3:37
The Mountain Sea (The Lake Tahoe Song) 4:29
After You've Gone 3:37
Go Ask The Rain 3:27
Just Like Me 2:33
Mr. Potato Head 2:56
Good Morning to You My Sweetheart 1:34
If You Need a Friend 1:42
You Are My Sunshine with Mary Kay's new verse 1:55
Celita: Let Your Heart Win 2:49
Tons O'Fun 2:44
Give Me Your Hand 4:18
The Lark in the Morning 1:54
Up to Me 3:23
The Bells of Ireland 3:37
Dear Friends and Gentle Hearts 2:16

About Gairin

This husband-and-wife folk duo got their start performing at Renaissance faires in California and Nevada, before they turned their attention to writing their own music. Find out more on the Gairin Music web site.


Item condition: NEW

UPC Code: 634479638381
Allow: 2-3 Days for delivery.

---
View more items by
Gairin Celtic Music