You are here: Home Page > Tahoe-Reno Directories
Special Choices for Lake Tahoe Weddings
Lake Tahoe is the most perfect place on the entire planet for weddings! Alternatively, consider the excitement and city lights of Reno for your wedding! We know you can always google for Tahoe wedding info. That's why our Lake Tahoe Weddings Page features special choices for weddings and receptions at Lake Tahoe.
---
Planning your Tahoe wedding: Start with your registry
---
When you start your quest for the best site or store for your personal bridal registry, you will be amazed at the many choices available. Just about the most popular is Amazon's bridal registry. Since Amazon retailers offer just about everything you could want, and you can also be pretty much certain that your guests and family will have Amazon accounts to easily access your registry.
Registry and planning is made simple for brides and grooms, family and friends on the Amazon Wedding Planner. You can find a registry or create your own Amazon Wedding Registry.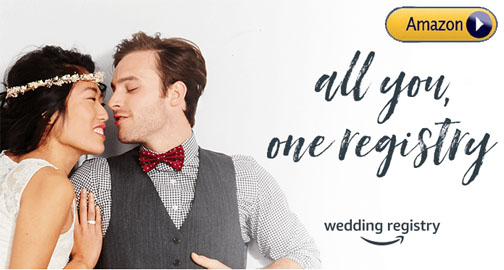 ---
Where can you get married at Lake Tahoe?
---
---
Seven Wedding Planning Tips you will be glad you considered...
---
Just getting started planning your wedding? Here are some helpful guidelines to get you on your way to a happy event.
Tip 1. The Reception - Planning Basics A celebration like no other, your wedding reception will literally be the first party you throw as a married couple. And whether it's a sophisticated champagne affair or an out-and-out hoedown, you should have the time of your life. Consider Style. Match the Reception to Your Style.
Tip 2. Choosing a Reception Location - As a power-planning wedding team, one of the first things you'll choose is the location of the reception. Whether you'll say your vows under the same roof you'll cut your cake, or the two sites will be across town from each other, there are a few critical qualities to look for in any venue.
Tip 3. Planning the Food for the Reception - Food is the fuel for your reception. It'll get guests mingling and marveling, and it'll be remembered long after the event. It's also a complicated little feature to plan. Read up on the basic scoop on dining formats, food extras, and things to think of. What Kind of Menu Suits Your Reception?
Tip 4. Beverage Choices for the Reception - The beverages at your reception keep palates refreshed and tongues moving. They might even inspire a few of the more timid souls out onto the floor for the impromptu dance circle. We've got the rundown on the choices that can get you the most bang from your bubbly. Design a Signature Cocktail
Tip 5. Reception Music - It's the lifeblood of a reception. Without it, conversation dries up, mingling halts, and dancing is an impossibility (except, perhaps, for the toddler set, who bring their own beat). When planning the tunes for your party, consider three primary issues: style, range, and delivery. What Kind of Music Suits Your Reception?
Tip 6. Wedding favors are a pleasant contradiction - an extra that's actually indispensable. Whether they're simple or elaborate, favors make a great way to thank guests, add a personal touch to the celebration, or round out the theme of your party. Find Memorable Favors.
Tip 7. Transportation to and from the Reception - Fabulous transportation to and from the wedding site is the emphatic punctuation of your special day. Your particular mode of transportation will depend on your budget, your taste, and your list of passengers.
Find out more...
Amazon Wedding Planner & Wedding Registry
---
Tahoe Wedding Licenses...
---
Douglas County Clerk/Minden
(775) 782-9014 1594 Esmeralda, Minden, NV 89423
Office is open 9 am-5 pm, Monday-Friday
Douglas County Clerk/Lake Tahoe
(775) 588-7100
County Administration Building/ Sheriff's Office, Hwy. 50, Stateline, NV 89449
Open 9 am-9 pm, Monday-Saturday, 9 am-5 pm, Sundays & Holidays
Visit Douglas County Clerk Wedding Page
El Dorado County Clerk
(530) 573-3409 3368 Lake Tahoe Blvd. Ste. #108, South Lake Tahoe, CA 96150
Open 8-11:30AM and 1-4:30PM, Monday-Friday
Visit El Dorado County Clerk Wedding Page...