You are here: Home Page > Tahoe Activities Guide > Hiking & Trail Running
---
Hiking, Backpacking and Trail Running at Lake Tahoe
---
Tahoe's Top Trails for Hiking, Backpacking & Trail Running
1. Eagle Falls/Eagle Lake. This moderately easy trail is well marked and begins at Eagle Picnic Area, across Highway 89 from Emerald Bay. It's only about a third of a mile to the steel footbridge overlooking the falls and 2 miles round-trip (1 1/2-2 hr.) to Eagle Lake. You can sign in at the self-registration station at the trail head.
Location: South Lake Tahoe, Lake Tahoe Basin
Access: car then hike (no dogs)
Distance: 2.2 miles (RT) (hike)
Elevation: 6600 ft. (-350 ft.)
Season: Apr-Jul - Difficulty: easy hike
Lat/Long (NAD83): 38.95185, -120.11029
Directions: Along Hwy #89, 8.5 miles northwest of Hwy #50 junction, at South Lake Tahoe
Parking is at the Emerald Bay / Vikingsholm State Park
(There is a fee)
---
This Lake Tahoe Adventure Set: Trail Map & Wildlife Guide is great...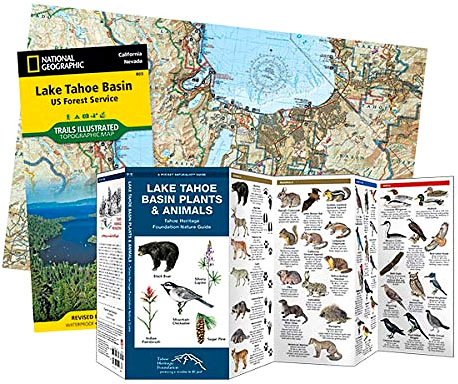 ...for your enjoyment of birds, plants and other wildlife. The Lake Tahoe Adventure Set consists of a Pocket Naturalist Guide and National Geographic Map, offering a perfect resource for travelers wanting "hands on" information on what to see and where to go to find some of the world's most dramatic natural attractions. Lake Tahoe Basin Plants & Animals is a durable, lightweight guide that highlights familiar species found in this region with beautiful full-color illustrations and clear, concise descriptions. It is a great, easy to use reference while exploring through this diverse area. It is packaged with National Geographic's Lake Tahoe Trails Illustrated Map.
---
2. Emerald Bay/Vikingsholm. The trail starts at the parking area on the north side of Emerald Bay, on Hwy. 89. It's a wide, well-maintained trail but fairly steep, about 2.5 miles round-trip. At the bottom of the trail is a picnic area, as well as world-famous Vikingsholm, a replica of a Scandinavian castle. Many scenic views can be enjoyed during this walk. There are various resting places along the trail. It is to be stressed, though, this is a steep trail at an elevation of over 6,300 feet. So, if you are in good walking or hiking shape, then you will enjoy this lovely trail!
Tours of Vikingsholm Castle are available seven days a week from Memorial Day weekend until the end of September. There is a fee for tours and a fee for parking in the Vikingsholm parking lot on Hwy. 89.
Directions: Along Hwy. 89, 8.5 miles northwest of Hwy. 50 junction, at South Lake Tahoe. Park at the Emerald Bay / Vikingsholm State Park.
3. Nevada Shoreline. Begin at the paved parking lot on the west side of Highway 28, 3 miles south of Sand Harbor. The trail drops to the beach and follows the shoreline, passing Chimney Beach, Secret Harbor, and Whale Beach. The trail eventually connects to a service road that can be followed back up to the parking area. It's an easy 4-mile hike, with a vertical climb of only 300 feet.
4. Shirley Lake. Shirley Lake is in Squaw Valley to the north of Lake Tahoe. Even though Squaw is not inside the Lake Tahoe Basin, it's a hop skip and a jump away, and the trail is popular. The hike is considered difficult and takes 2½ - 3 hours. As always, your fitness will determine whether you think this trail is easier or more difficult for you, and the better shape you are in the more fun you can have, of course.
This trail leads to Shirley Lake, then down to Shirley Canyon. To get there, you can take the scenic tram ride at Squaw Valley up to High Camp and hike down, or you can hike first and then enjoy riding the tram on your way back. The trail begins at the end of Squaw Creek Road, next to the cable-car building. From this point, you will enjoy a 4-mile hike, easy to moderate in difficulty, with a few steep sections.
Here's a brief description from the start at the end of Squaw Peak Road. (There are several other trails which follow the creek up to Shirley Lake.) There are actually trails on both sides of Squaw Creek for about 2½ miles to Shirley Lake. You will stroll alongside gorgeous waterfalls and canyon boulders. Going uphill, we recommend you stay to the left of the creek. Then, going downhill, you can stay to the right. The trail diverges and seems to disappear at times, but just keep following the creek and you'll always be on track. P.S. Remember to carry water.
5. Stagecoach Lift at Heavenly toward Star Lake. This is a popular trail whether you are in peak shape or just out for a nice walk with the family. An out-and-back trip allows you to get in some beautiful scenery of both the Lake Tahoe and Carson Valley Nevada side of the ridge, and you can determine your distance.
The trail starts at the Stagecoach Lift at Heavenly Valley. To get there you will drive past a multitude of resort condos, and take note that you will be able to return for refreshments at little convenience store or pub after your hike.
The trail starts at the ski lift with a short climb, and if your visit is during wildflower season you will find a wide variety of lovely mountain flowers surrounding you right away. The first few miles are well used by hikers, and you will be in the company of cheery families with their dogs as well as mountain runners and a few mountain bikers. This is a wonderful place to take family, since you get a chance to view the Heavenly Ridge (Ridge Tahoe Resort) within the first few miles, and there's even a little wood bench for sitting to take in the view.
After the first mile the trail becomes more suitable for hiking rather than mountain biking, unless you are into technical riding. For the experienced and fit biker, have at it for a fun and rocky ride trending up hill for about 6 miles. Inexperienced riders will walk more than ride, so don't say we didn't warn you. But, hiking is not a problem here. The trail has been nicely built with stairsteps made in the rocks, and you will find yourself wondering how many people have worked to create your nice experience.
Although the first 12 miles steadily climbs, it is not at all steep and the scenery is beautiful, including many views of ridges and mountains across the Carson Valley. You will cross Mott Canyon and another ski trail as well as some mountain streams.
Proceeding all the way to Star Lake and beyond is farther than we wanted to go with this little review. But, whether you make this a 1 hour trip or a full day hike, you will enjoy this trail.
Some hikes that are a little more serious...
Desolation Wilderness - One of the most accessible wildernesses in the country, Desolation is a popular destination for day hikers and visitors alike. Luckily, over 63,000 acres of forest and 130 lakes offer enough space for everyone to get pleasantly lost in nature. You'll need a permit for hiking and camping – obtain it by visiting a forest service office. Check out www.fs.fed.us/ for more information.
Two popular access points for Desolation Wilderness are at the Eagle Falls Trailhead in South Lake Tahoe or the Granite Lake Trailhead near Inspiration Point at Emerald Bay. Take either trail through Velma Lakes and towards Dick's Lake where you'll intersect with the Pacific Crest Trail. Undesignated campsites are available – some right on the lakes' shores.
Glen Alpine Trailhead is another way to enter Desolation Wilderness and offers a number of trail options. Some spiral up towards Susie, Heather and Aloha Lakes, providing stunning views, granite walls and features. The Glen Alpine Trailhead is located off of Hwy 89, just north of South Lake Tahoe on Fallen Leaf Road.
Granite Chief Wilderness - On the west shore of Lake Tahoe butting up to Alpine Meadows and Palisades Tahoe ski areas, Granite Chief Wilderness features granite cliffs that swoop down to glacial valleys and is the headwater for the American River. Aside from the busy day hike to the 5 Lakes area, Granite Chief Wilderness is less populated than many other wilderness areas and only requires permits for camp stoves (campfires are prohibited). Explore trails into the Hellhole Reservoir or Picayune Valley to find a solitary escape. Camping is prohibited within 600' of any of the 5 Lakes and dogs are not permitted in certain deer fawning areas.
Mokelumne Wilderness - If you've a hankering for heights, trek through Mokelumne Wilderness for access to Jobs and Freels Peaks – two of the highest in the Tahoe Basin. The Wilderness, located south of South Lake Tahoe between Hwys 88 and 4, is also home to many small lakes, granite features and the rugged Mokelumne River Canyon. Wilderness permits are required for overnight users from the Eldorado National Forest.
Meiss Country Roadless Area - Located between Luther Pass (Hwy 89) and Carson Pass (Hwy 88), this area features lovely hikes as well as intersections with the Pacific Crest and Tahoe Rim Trails. Campfires are permitted with permit. Find more information from the forest service here.
Within Meiss Country, hike to Meiss Lake where warm, shallow waters make for an ideal swimming spot. The trailhead can be found just past the intersection of Hwys 88 and 89, one mile past the Carson Pass Sno-Park.
Also catch the Tahoe Rim Trail's Big Meadows Trailhead and explore three alpine lakes: Round, Dardanelles and Scotts. Scenic volcanic cliffs and granite shelves complement these lakes' beauty. Trails also wander through Meiss and Big Meadows, where wildflowers bloom in profusion. The trailhead is located off of Hwy 89, about 5 miles south of US 50 between Luther and Carson passes.
Tahoe Rim Trail - You can explore all 8 segments of its 165 mile path. Forming a loop around Lake Tahoe that encompasses peak heights, calm meadows, and dizzying vistas, the TRT is truly one of the best ways to experience the beauty of the Lake. Camping is permitted within 300 feet of the trail in every area except Tunnel Creek to Spooner Summit in the Nevada State Park section of the trail (two designated campgrounds are available in that section). Campfires are prohibited, although portable camp stoves are allowed with permit. Visit www.tahoerimrtail.org for more information and access points. Explore the Tahoe Meadows to Spooner Summit section of the TRT and detour up to explore Marlette Peak or down to Marlette Lake. This section of the trail is in the Lake Tahoe Nevada State Park. Camping is available at the Marlette Peak Campground or the North Canyon Campground. Adventuring on spurs off of the main trails can lead to spectacular views of Lake Tahoe. Access this portion of the TRT at either the Tahoe Meadows Trailhead off of SR 431, or the Spooner Summit Trailhead on the south side of Hwy 50.
Reviews of Tahoe Rim Trail
Rim Trail and Mt. Tallac Hike

5 of 5 stars

The Rim Trail is the most beautiful piece of land in Tahoe. There are many trailheads to start from. We did Tahoe Meadows, Mt. Rose Summit and Mt. Tallac. Mt. Tallac being the most strenuous of them all. Very steep at times but the view from the top is worth every step of the way. Plan on about 6 hours.

Stunning Scenery

Easy to get lost - 4 of 5 stars

We rode different trails and very little is marked. So at times hard to know which way to turn. One sign post had been knocked down. Fortunately Village Ski & Bicycles in Incline Village has a website with maps... Streuous ride. Guaranteed to go up hill a few miles...

Experience Tahoe Rim Trail

4 of 5 stars

I section-hiked the Tahoe Rim Trail, mostly day hikes but with some overnighters and one 5-day trip through the Desolation Wilderness. The whole trail can be done as day hikes with some planning, and car shuttles. Beautiful, sometimes crowded, especially on the sections that allow mountain bikes. Water sources can be problem, especially on the East side, and following poor winters. The Tahoe Rim Trail Association maintains a website that is loaded with information. Any trip to Tahoe should include at least one day hike on the Rim Trail.

Start at FREE USFS Parking

The Rim Trail is a lot of fun whether you hike, run, mountain bike or cross country ski. And it's FREE! The Mt. Rose Meadows parking lot is FREE. But, you have to know that you can also park for FREE at the US Forest Service parking lot on Spooner Summit. There are other NOT FREE parking lots by the State of Nevada and you can save money by finding the USFS lot. Go to Spooner Summit on Hwy 395 and look for the lot on the SOUTH side of the highway. There are shade trees and restrooms at this lot too. The parking spaces are wide and laid out very well. You can start your trip on the Rim Trail from here heading south or north. To go north, you just need to walk across the highway.
Reviews of This Page
TahoeHighSierra favorite...

5 of 5 stars - T.M. from Pittsburgh said...

TahoeHighSierra is my favorite site for quick information about backpacking at Lake Tahoe. Thanks for all the information organized so that I can branch out and get the details later, but don't have to. I found some great new trails to backpack with my kids last week off the beaten path!

Great Resource for Runners

5 of 5 stars - E.R. from Reno said...

Thanks for including all the running information for us trail running enthusiasts at TahoeHighSierra.com! I just strapped on my fanny pack and headed out today on the loop you suggested at Spooner Summit. Great one hour run with fabulous Tahoe views! Thanks!

Experience Tahoe Rim Trail

5 of 5 stars - E.R. from Ohio said...

Thanks for the links to Lake Tahoe hiking. I liked your recommendations and found several that described the trails.

Nice Site!

5 of 5 stars -T.R.J. from Canada said...

Nice site! Keep it up!
---
For More Tahoe Trail Running
---