My Cross Country Ski Training
Summer Training
Week 19 (In September)
This series shares my cross country ski training activities, and this is my blog for Week 19 of this training year.
This week, I'll admit that the high volume of training is pretty taxing on my body; but, so far so good! As long as I can rub out any little nits that crop up, like a little heel soreness after last week's road running time trial, then goody goody the fun of training goes on and on and Yay! for that.
This week's 14 hours will be followed by next week's 16-and-a-half-hours, which will be my highest volume 4-Week Block of training for this year. So, I'm making sure to go easy enough when the training plan says to, but this week I also get to enjoy a fun time trial full of gnarly adventure running in a race that includes on hills, roots, rocks, sand, a bog and lots of friends who I love to race with!
At the end of each long week, I celebrate that I have accomplished my training goals. Training for cross country ski racing is a fun game to play, and I play it every day, making sure to do all the workouts and enjoy the promise of increasing fitness.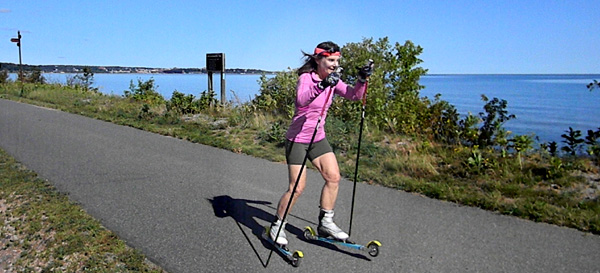 About the photo: That's me out roller skiing along the lakeshore. Taking photos of one's self during training is useful, since it helps with self-evaluation. Plus, selfies are fun!
If you tuned into this series just now, and want to know what it's about, click here to go to the start. It's for those who are curious about the kind of training cross country ski racers enjoy doing to get ready for winter fun at Lake Tahoe and beyond.
To see prior training weeks, just scroll down and use the navigation buttons.
So let's check out Week 19...
---
Week 19
AM/PM
Mode
3rd Week/4-Week Block: Goal hrs. 14 of 50 hr. 4-Week - Only 1 intensity this Long Week with a time trial on Sat.
Hours
Mon
AM


OFF




PM


OFF


Tue
AM
RSSK
&
RdB
Roller Skiing ~1 hr. L1 w. 3x10min. DP only, then Cycling road and gravel ~1:10
2:15


PM
WT RM
strength:
10 min trail run
5 min jump rope
Ladders:
One ins - 10 boxes - high knees&fast
One ins - into box out to side of box and go 10 boxes
Two ins & outs: both legs in then out 10 boxes

Core:
2 x 10 Rotational overhead slam one leg hop
do these without the ball
2 x Russian Twist 1 min. 15 lbs. fast
2 x leg flutter fast 30 sec. head up
1 x 10 straight back situps SLOW to Vertical

Upper Body (Mostly)
3 x 6 Press Up Pushups from knees with pop up to vertical
3 x 6 Dumbbell Swing One Arm between legs w. squat w. 15 lb. weight
3 x 6 Dumbbell Ts up then out then in then down w. 15 lb and 10 lb. Hand weights
3 x 6 regular pushups
3 x 6 Pull Downs on weight machine, Right Arm Left Arm then increase weight and both arms
3 x 15 Tricep dips on bench with elevated legs
3 x 10 Pullups
3 x 6 Tricep dips on dip bar
3 x 10 Leg extensions on weight machine
1:00
Wed
AM
Run
Run FastHike toggle on upcoming 5K trail run route
2:03


PM






Thu
AM
RdB
Road and Gravel flat L1 riding 2 days before time trial, so no running
2:03


PM






Fri
AM
Run
&
RSSK
RUN > 30min then Roller Ski 1hr. w. 10min. single sticking and 10min. dbl. pole only
1:45


PM






Sat
AM
Run
intensity: 5K Trail Adventure Run Time Trial w. usual warmup 10min fastwalk, 15min L1, 3min L2, 3min L4, 4x 20sec accels
1:30


PM
WT RM
strength: warmup 10min cycling
CORE & UPPER BODY
(All 3 sets except 2 for the Situps)
3 x 20 Side Planks w. Twist & 10 lb. weight
3 x 1 min. Russian Twist w. 15 lbs. fast
2 x 10 Straight Back Situps SLOW to Vertical
3 x 1 min. Super Chickens
3 x 15 Tricep dips on bench with elevated legs
3 x 6 Full Pullups
0:45
Sun
AM
RdB
overdistance: technical trails, gravel, sand and asphalt
2:41


PM






Week Summary




14:02
---
KEY: The references to L1, L2, L3 and L4 in the spreadsheet refer to heart rate zones, with L1 being lowest heart rate. A general way to think about these heart rate training zones is: L1 is Level 1 - very easy to talk, L2 is Level 2 - easy to talk, L3 is Level 3 - difficult to talk marathon race pace, L4 - cannot talk 5K race pace, L5 - WFO sprint pace maximum speed. Key to modes of training: Ski Walk/Bound SW/SS, Ski Skate SSK, Ski Classic SCL, Rollerski Skate RSSK, Rollerski Classic RSCL, Road Bike RdB, Mountain Bike MtB, Kayak or Row KYK, Double Poling DP, Weight Room/Strength WTRM. (For in-depth information about training plans, periodization of training and all the details that go into making up a training year, please look for CXC Academy or another training organization for that kind of detail.)
---
Did you know that you can actually find many roller skis on Amazon? I was a little surprised to even find a variety of binding choices, including NNN SNS and more for roller skiing.
---
DISCLAIMER: All sports including Cross Country Skiing have inherent risks. This training page is provided as information only. It is not a prescription for training. It is provided without the benefit of assessing the reader's health, fitness or skill. It is not a substitute for qualified personal coaching. Obtain a doctor's medical assessment before engaging in strenuous exercise. By reading this page, you agree to indemnify the author and any associated entity from any harm you may incur if you decide to follow the training program, and you agree you are at your own risk and that you hold harmless the author and any other associated entity.
---
---