You are here: Home Page > Activities > Skiing > XC Ski Training > Week 35
My Cross Country Ski Training
Week 35
(3-Week Countdown)
This series shares my cross country ski training activities, and this is Week 35 of my training year, which started last May.
First, about the images, before getting into the details of this week's training. Here I am in the midst of my morning stretching and strengthening routine. Every day, I dedicate just 10 short but super helpful minutes to a variety of exercises that iron out any kinks and strengthen muscles and tendons. In the animated image, you see me doing just one of the ski specific balance exercises that have really improved my on-snow balance this year. I stand on one foot and raise my heel to balance on my forefoot. Then I maintain my balance as I move my elevated leg toward the rear and then back to the center of balance. This mimics the balance during movement needed for a really good diagonal stride. (I also do this exercise in skate position, with my leg lifting toward the side and back.) As for the top-of-page image, that's me racing in a raging snowstorm during the Yellowstone Rendezvous cross country ski marathon.
Counting Down to My Races
This is the middle of a 3-week countdown to full-blown racing season. My upcoming races are middle distance, ranging from 10K to 25K, including 3 classic and 7 skating style races. That's 10 races planned during the next 3 months, which should be enough to make it feel as if all the year-long training has been put to good use. First up is a classic 12K that is coming up in 2 weeks. Therefore, the 3-week plan I'm in the midst of calls for pre-race preparation like this:
Week #1 (Last Week): Volume (more hours than the next 2 weeks);
Week #2 (This Week): A couple hours less volume than last week with 2-3 intensity workouts;
Week #3 (Next Week): Taper with lower volume and extra rest days. Just one light intensity workout mid-week. A rest day 2-days before the race. Then, go easy the day before the race. Then race!
How does this 3-week countdown to racing plan fit into my overall year of training? It comes during the current few months' overall drop in training volume and increase in intensity sessions per week, when compared with the peak volume training of last fall, when I did perhaps twice as many hours per week and a whole lot less intensity as well. That's because we have now entered racing season, and it's time to get to the starting line and go Go GO!
This blog is based on my cross country ski training, and the info. is provided just for those who are curious about the kind of training cross country ski racers enjoy doing to get ready for winter fun at Lake Tahoe and beyond. When all weekly posts are complete, this blog shows an entire training year, based on US Ski Association and professional coaching plans for middle distance cross country ski racers. It's the kind of detailed information I wish I had early on in my ski racing. So enjoy! You can view more of my training log by clicking on one of the navigation links below.
So let's check out Week 35...
---
Week 35
AM/PM
Mode
Week 35 Goal Hrs: 10:00 Finish off High Volume then since it's 2 weeks prior to a race, get into training with 3 intensities, prior to next week's taper before the race.
Hours
Mon
AM
SCL
Overdistance PLUS: very challenging long classic ski with lots of long uphills and short-but-steep grades. The snow was new and slow, so coming back down off the hill was not full of glide, but my skis worked perfect on this 18DegF new snow on new tracks. Felt great, hill technique working well, and today = a great day for this workout due to being so rested after last week. Yay!
3:15


PM






Tue
AM


OFF - Continuing my morning stretching and strengthening routine on the Soloflex WBV bench every day. Added this: step-on-toe and balance, then let down with heel moving below bench level, to strengthen plantar. This and other balancing movements are also improving my balance on skis!




PM


OFF


Wed
AM
SCL
Intensity threshold intervals L3: classic skiing mostly double poling due to gentle grades, old snow and toughened (fast) tracks. Warmup 15min.L1, 2minL2, 2minL3, 4x20sec.accelerations; then 3x10minL3/3min.OFFs; cooldown easy skiing
1:40


PM






Thu
AM
SCL
L1 classic ski on my new skis. These have a big wax pocket that works great! Nice kick and glide 40degF old snow with wet on it. Brown klister due to hard formed tracks with a thin watery surface. Klister was wonderful. Good grip and not dragging. Could have had thinner under foot, as I am still figuring out these new skis.
1:10


PM
Run
L1 run on packed snow right after skiing, varied terrain up down twisty turny in the woods. Keep running at least once a week
0:20
Fri
AM
SCL
Intensity L5 speeds: warmup then 3 SETS of 5x(30sec.L5/2min.OFF) with 10min. Easy skiing between sets.

Speed is the goal of these intervals. These are All Out L5 WFO. So, be sure to take plenty of recovery, at least 2 min. of easy skiing, between each speed interval, and 10 min. between sets.
1:11


PM
WT RM
Winter Strength Ski Specific Circuit for Pre-Race and Race Season December-January. Goal: maintenance.

WARMUP:
* cycling 10min. w. varied RPM

CORE all 30 sec. w. 1 min. rests:
* Front Plank picking up legs alternately
* Side Planks w. weight arm vertical then circle below chest
* Russian Twist w. weight
* Leg flutter
* Tricep Pushups elbows close to body

LEGS all w. 1 min. rests:
* Goblet squat elbows to knee level w. weight 20 reps.
* Side pull with band pulling inward 20 reps.
* Goblet Side Squats/Pushing off w. weight 10 reps.
* Goblet Big Steps Forward (Slow Lunges to Knees) w. weight 10 reps.

UPPER BODY 20 reps. ea. all w. 1 min. rests:
* Pullups
* Dips on Dip Bar
* One-Arm Pulldowns R then L 20 reps. Per arm
0:40
Sat
AM
Other
hiking varied grades
1:00


PM






Sun
AM
SCL
Intensity L4 VO2Max: 15min.L1,2minL2,2minL3,4x15-20sec.accels; then on an uphill and *trying to go farther each time do 4x(4minL4/4minOFF); cooldown

*Today, I did these on fast tricky-for-balance conditions on varied grades with some quick steeps. Increasing heart rate for each interval rather than going farther each interval. Balance, drop and kick! Goal: better balance & better kick power.

This workout is based on coaching wisdom for race season,"Start doing VO2max intervals in the fall, six weeks to eight weeks before the race season. Continue doing one session of VO2max intervals until your first race week. Once the race season starts, a race will substitute for a VO2max interval session. If you've got a week without a race, include a VO2max interval set of 4 x 4 minutes."
1:30
Mon
PM






Week Summary




10:46
---
KEY: The references to L1, L2, L3 and L4 in the spreadsheet refer to heart rate zones, with L1 being lowest heart rate. A general way to think about these heart rate training zones is: L1 is Level 1 - very easy to talk, L2 is Level 2 - easy to talk, L3 is Level 3 - difficult to talk marathon race pace, L4 - cannot talk 5K race pace, L5 - WFO sprint pace maximum speed. Key to modes of training: Ski Walk/Bound SW/SS, Ski Skate SSK, Ski Classic SCL, Rollerski Skate RSSK, Rollerski Classic RSCL, Road Bike RdB, Mountain Bike MtB, Kayak or Row KYK, Double Poling DP, Weight Room/Strength WTRM. (For in-depth information about training plans, periodization of training and all the details that go into making up a training year, please look for CXC Academy or another training organization for that kind of detail.)
---
What's my choice in glasses for cross country ski racing? I go for glasses that are functional and cheap. Functional meaning that I look for glasses that have some UV protection, some ventilation on the sides for anti-fogging, and a tough safety lens that won't scratch easily. I also like cheap, because it's just too annoying to spend a lot of money on expensive way-cool glasses that I will probably scratch up or break. So, what glasses fit these criteria? In my biathlon and target shooting competition days, I found out about Remington shooting glasses by Radians. Today, I continue to be happy with them for cross country skiing, cycling, running and target shooting. These glasses include several different color lenses, including clear, and the temples are adjustable, too. The price tag is so economical that I can buy lots of Remington Radians glasses Here are some links...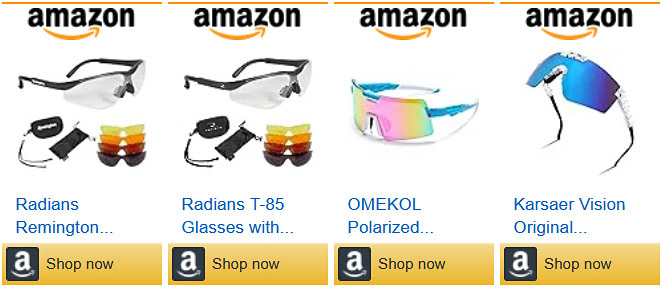 ---
---
DISCLAIMER: All sports including Cross Country Skiing have inherent risks. This training page is provided as information only. It is not a prescription for training. It is provided without the benefit of assessing the reader's health, fitness or skill. It is not a substitute for qualified personal coaching. Obtain a doctor's medical assessment before engaging in strenuous exercise. By reading this page, you agree to indemnify the author and any associated entity from any harm you may incur if you decide to follow the training program, and you agree you are at your own risk and that you hold harmless the author and any other associated entity.
---
First Woman Overall in the following races: Kneissel Rendezvous Marathon, President's Cup Marathon, Ridge to River Iron Woman, and Muskoka Loppet
First Woman Overall and First Mixed Team wins for three consecutive years: Ski to Sea and Ridge to River multi-sport races
Second Woman Overall in the following races: Ski Jeep Challenge Series, Gatineau 25K Classic, Superior Ski Classic Marathon, Grand Marnier Cup Marathon, Yellowstone Rendezvous 25K and Pepsi Challenge 10K
Third Woman Overall: Payette Lakes Ski Marathon


U.S. Ski Association Cross Country Ski Championships results:

26th Place Women All Age Classes in 20K Freestyle
32nd Place Women All Age Classes (3rd in Class F30-39) 25K Freestyle at Royal Gorge
51st Woman All Age Classes 15K Classic at Lake Placid
2nd Woman Overall in the Masters Category Age 30 and up (First in Class F30-34) 20K Classic at Royal Gorge

U.S. Masters Ski Association Nationals results:

First Woman Overall 25K Freestyle race
6th Woman Overall 10K Freestyle race
6th Woman Overall 20K Freestyle race

American Birkebeiner Cross Country Ski Marathon Elite Wave starter for two consecutive years finishing 22nd and 29th Woman Overall (5th in class F35-39 both years).
After moving to Lake Tahoe, Mary Kay won several Top 3 Woman finishes in Far West Cross Country Ski events. She joined U.S. Biathlon Association and won two consecutive years Overall Woman at the 10th Mountain Division Biathlon, and was runner-up in her third year. She won Top Gun at the Washington State Biathlon Championships, out scoring all men and women. Currently, Mary Kay is a member of Ishpeming Ski Club and frequent competitor in cross country ski races.
---