You are here: Home Page > Activities > Skiing > XC Ski Training > Week 38
My Cross Country Ski Training
Week 38
(A Big Skate Race)
This series shares my cross country ski training and racing, and this is Week 38 of my training/racing year, which started last May. That means it's race season, and everything I have prepared for is happening now.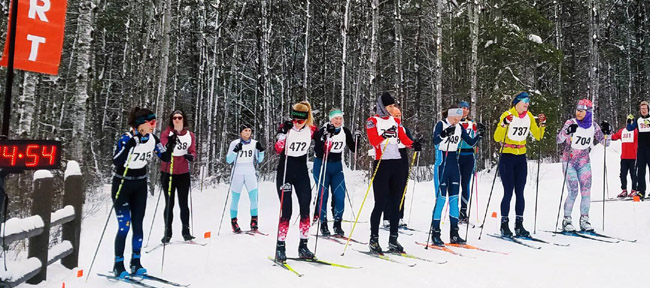 First, about the images, before getting into the details of this week's training. Here we are on the starting line, ladies with our race faces on and ready to go! And the circle image is my post race happy face! And below you will find me with Don Camp, new cross country ski racing friend who drove a whole day to get to the race with his wife Shell. Then, Don won his age group and I won mine! Many thanks to Sistah Stash (AKA Shell) for these images. As for the top-of-page header image, that's me racing in a raging snowstorm during the Yellowstone Rendezvous cross country ski marathon.
The Skating Race
This week features another standard taper for a race, similar to last week. It was another super low volume week, leading up to a 28K skating race at the end of the week. Then, on the day after the race, it was time for a nice and easy recovery ski.
As for my race, it was great! I loved every minute of it! Skate ski racing has always been my favorite.
When I was helping coach our local kids team, I would always ask each athlete, "What are you most proud of that you did in your race?" and also, "What did you learn that you can work on for the next race." So, here goes with my self-evaluation. What one thing am I proud of? I would have to say it is that I chose techniques that would go the fastest on any given part of the trail. For example, I saved energy while going faster when I caught up to some racers by using a sort-of-obsolete technique called the marathon skate! That's because the tracks were sometimes icy and fast, while the skate lane was softish and slower. Therefore, on those parts of the course, my fastest and less taxing way to go was double poling with one foot gliding along in the classic track and the other leg providing some extra push by edging and skating off to the side.
As for what can I work on? Understandably my legs could have used more oomph in the last 2 kilometers of extended climbing, and in the midst of Lincoln Log legs, I need to improve my ability to hold onto my steep hill technique, in order to get to the top faster. That's racing!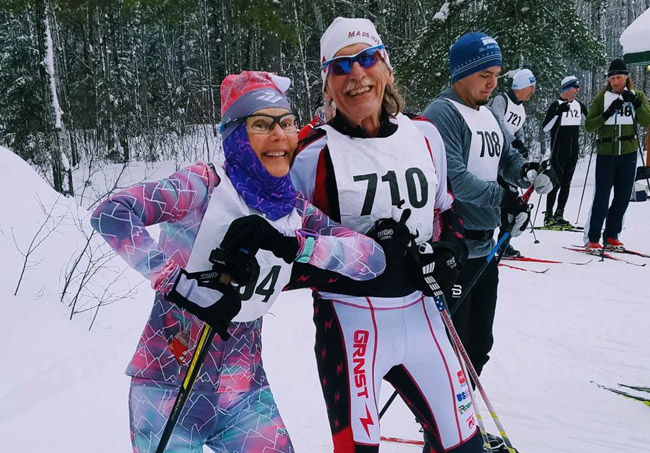 This blog is based on my cross country ski training, and the info. is provided just for those who are curious about the kind of training cross country ski racers enjoy doing to get ready for winter fun at Lake Tahoe and beyond. When all weekly posts are complete, this blog shows an entire training year, based on US Ski Association and professional coaching plans for middle distance cross country ski racers. It's the kind of detailed information I wish I had early on in my ski racing. So enjoy! You can view more of my training log by clicking on one of the navigation links below.
So let's check out Week 38...
---
Week 38
AM/PM
Mode
Workouts description: Goal hrs. ~9:45 - A Race Week "Performance Taper" low volume, just 1 tuneup intervals, OFF Mon. & 2 days prior to race Light Speeds & Recover From Race Before Any Hard Intervals
Hours
Mon
AM


OFF - Recovery Day. Hike down to the lake and back. Continue daily 10 min. exercise routine for balance-on-one-foot, stretching strengthening of feet, and glute activation.
0:30


PM


OFF


Tue
AM
Run
Run L1 easy. Hike 10 min.; Run 50 min.; Hike steep uphill road/trail ~30 min. Keep up with a little running all Winter.
1:31


PM






Wed
AM
SSK
Pre-Race Tuneup/Light intervals: Skate Skiing since next race is a skatign race. Warmup: 15min L1, 3min L2, 3min L3, 4x20sec accelerations, then 1,2,3,3,2,1min.ON/2min.OFFs L3-L4+, then cooldown. This is my workout for all race week Wednesdays.
1:02


PM
WT RM
Winter Strength Ski Specific Circuit for Pre-Race and Race Season December-January. Goal: maintenance.

WARMUP:
* cycling 10min. w. varied RPM

CORE all 30 sec. w. 1 min. rests:
* Front Plank picking up legs alternately
* Side Planks w. weight arm vertical then circle below chest
* Russian Twist w. weight
* Leg flutter
* Tricep Pushups elbows close to body

LEGS all w. 1 min. rests:
* Goblet squat elbows to knee level w. weight 20 reps.
* Side pull with band pulling inward 20 reps.
* Goblet Side Squats/Pushing off w. weight 10 per leg
* Goblet Big Steps Forward (Slow Lunges to Knees) w. weight 10 steps

UPPER BODY 20 reps. ea. all w. 1 min. rests:
* Dips on Dip Bar
* One-Arm Pulldowns R then L 20 per arm
* Pullups
0:40
Thu
AM
Other
Easy or OFF 2 days prior to race. Hike down to the lake and back up via the trail.
0:30


PM
Other
Shoveling foot-deep new snow in snowstorm! If it wasn't such heavy work, I would not count this as training.
0:30
Fri
AM
SSK
L1 ski the course and do 4-6 20sec. accelerations
1:00


PM






Sat
AM
SSK
Race! 28K Skate - plan for ~2 hr. duration - warmup: 15min L1, 3min L2, 3min L3, 4x20sec accelerations, then Race! Focus: balance! Hold onto your steep hill technique in the final climbs.
2:40


PM






Sun
AM
SSK
Easy recovery ski: easy skate ski on varied terrain. Some hills but kept a lid on it by herringboning and single sticking.
1:15


PM






Week Summary




9:38
---
KEY: The references to L1, L2, L3 and L4 in the spreadsheet refer to heart rate zones, with L1 being lowest heart rate. A general way to think about these heart rate training zones is: L1 is Level 1 - very easy to talk, L2 is Level 2 - easy to talk, L3 is Level 3 - difficult to talk marathon race pace, L4 - cannot talk 5K race pace, L5 - WFO sprint pace maximum speed. Key to modes of training: Ski Walk/Bound SW/SS, Ski Skate SSK, Ski Classic SCL, Rollerski Skate RSSK, Rollerski Classic RSCL, Road Bike RdB, Mountain Bike MtB, Kayak or Row KYK, Double Poling DP, Weight Room/Strength WTRM. (For in-depth information about training plans, periodization of training and all the details that go into making up a training year, please look for CXC Academy or another training organization for that kind of detail.)
---
Last week, I wrote that I was going to try out Tifosi Sports Glasses for cross country ski racing. After trying out these glasses with their vented lense, I can say they did not fog up in training and did not fog up in my race. So, I like them! To complete my Great Find, I went looking for some Chums eyewear retainers, and found that chums now available in many styles and sizes, to fit different types of sports glasses. That's great!
---
DISCLAIMER: All sports including Cross Country Skiing have inherent risks. This training page is provided as information only. It is not a prescription for training. It is provided without the benefit of assessing the reader's health, fitness or skill. It is not a substitute for qualified personal coaching. Obtain a doctor's medical assessment before engaging in strenuous exercise. By reading this page, you agree to indemnify the author and any associated entity from any harm you may incur if you decide to follow the training program, and you agree you are at your own risk and that you hold harmless the author and any other associated entity.
---
First Woman: Kneissel Rendezvous Marathon, President's Cup Marathon, Ridge to River Iron Woman, and Muskoka Loppet
Three-Time First Woman and First Mixed Team wins at Ski to Sea and Ridge to River relay races
Second Woman at the Gatineau 25K Classic, Superior Ski Classic Marathon, Grand Marnier Cup Marathon, Yellowstone Rendezvous 25K and Pepsi Challenge 10K
Third Woman at Payette Lakes Ski Marathon
*U.S Nationals 26th of 41 Women All Age Classes in 20K Freestyle
*U.S. Nationals 32nd Overall of 86 Women All Age Classes (3rd in Class F30-39) 25K Freestyle at Royal Gorge
*U.S. Nationals 51st Woman All Age Classes 15K Classic at Lake Placid
*U.S. Nationals (Masters-only race: ages 30 and up) 2nd Woman Overall (First in Class F 30-34) in 20K Classic at Royal Gorge .
U.S. Masters Ski Association Nationals (30 and up) First Woman Overall 25K Freestyle race
U.S. Masters Ski Association Nationals (30 and up) 6th Woman Overall in both the 10K and 20K Freestyle races
After moving to Lake Tahoe, Mary Kay won several Top 3 Woman finishes in Far West Cross Country Ski events. She joined U.S. Biathlon Association and won two consecutive years Overall Woman at the 10th Mountain Division Biathlon. She won Top Gun at the Washington State Biathlon Championships, out scoring all men and women. After moving to Marquette, Michigan she found that her two Birkebeiner finishes were also something to be proud of. These were 22nd and 29th Woman Overall (5th F35-39 both years). Currently Mary Kay is a member of Ishpeming Ski Club and frequent competitor in cross country ski races.
---