You are here: Home Page > Guide to Radon > Overview
Our Review of
EPA's Home Buyer's and Seller's Guide to Radon
Introduction: When we purchased property in South Lake Tahoe, nobody alerted us to the fact that our property was located in a neighborhood with high potential for Radon. Later on, we found out we might want to be concerned, according to the Radon Potential Zone Map for the Lake Tahoe Area, California By Ronald K. Churchill, Ph.D. We learned that Radon is a colorless odorless gas that presents health danger, if it is allowed to build up in a home. Therefore, we had our home tested for Radon, and we were glad that our test came out OK!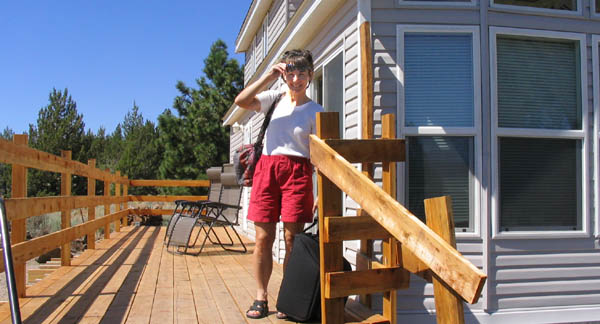 Based on our experience, you don't have to fear getting your home tested for Radon. It is a good idea to get all Lake Tahoe properties tested for Radon gas; and, even if a home has high Radon, there are devices that can be installed to mitigate it and make the property meet healthy guidelines.
The EPA recommendations apply to any home, and especially at Lake Tahoe.
The EPA states that, if you are buying or selling a home, you should have it tested for Radon. We feel that's good advice.
For a new home, the EPA says you should ask if Radon-resistant construction features were used and if the home has been tested. They say to, "Fix the home if the Radon level is 4 picocuries per liter (pCi/L) or higher. Radon levels less than 4 pCi/L still pose a risk and, in many cases, may be reduced."
Radon Levels in El Dorado County
What about Radon Levels in El Dorado County? The average indoor Radon levels of El Dorado County, as determined by Radon test results from Air Chek, is 3.8 pCi/L, and 33 percent of homes have Radon levels above 4pCi/L.
Douglas County, Nevada, on the other side of Lake Tahoe, has even higher Radon. The average indoor radon levels of Douglas County, as determined by radon test results from Air Chek, is 5.5 pCi/L, and 40 percent of homes have Radon levels above 4pCi/L.
It's easy to see why EPA says everyone to have their home tested for its Radon levels. The Air Chek county Radon information is up-to-date and the numbers we cite above are from radon tests in 2022.
It really concerns me that Radon levels in the Tahoe area are so high, especially since EPA estimates that Radon causes thousands of cancer deaths in the U.S. each year. Radon is estimated to cause about 21,000 lung cancer deaths per year, according to EPA's Assessment of Risks from Radon in Homes.
---
Home Air Quality Monitors
A Radon detector is only one home monitor that you can use to check the indoor air quality of your home at Lake Tahoe and beyond. Here's a handy link to home air quality monitors and other air quality products.
---
Navigation: More Radon Information
---