You are here: Home Page > Guide to Radon > Buying a Home
Our Review of
EPA's Home Buyer's and Seller's Guide to Radon
Buying a Home
Review: If You Are Buying a Home, EPA recommends that you know what the indoor Radon level is in any home you consider buying. We followed this advice when purchasing property. When we asked the seller's real estate agent for a Radon test, we found that we had to educate the Realtor a little bit. However, since testing devices are easily obtained, and testing is easy to do, the seller complied, and we were happy with the results.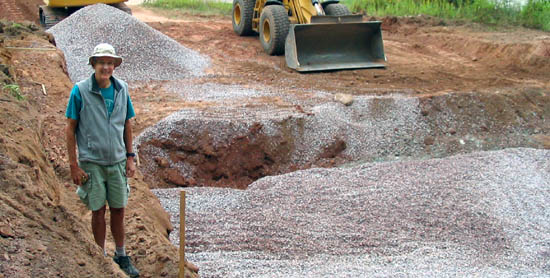 A great time to install Radon mitigation is at the start.
---
Also good advice from the EPA is that if you are buying a home that already has a Radon-reduction system, you should ask the seller for any information they have about the system. And, of course if you are having a new home built, there are features that can be incorporated into your home during construction to reduce Radon levels.
In a nutshell, the EPA Guide recommends short-term testing options for real estate transactions, since home buyers and sellers want their transaction to move along in a timely manner.
This series is provided to inform about Radon at Lake Tahoe and beyond. On each page, you can view more by clicking on one of the navigation links below.
---
Home Air Quality Monitors
A Radon detector is only one home monitor that you can use to check the indoor air quality of your home at Lake Tahoe and beyond. Here's a handy link to home air quality monitors and other air quality products.
---
Navigation: More Radon Information
---