You are here: Home Page > Radon at Lake Tahoe
Radon and Lake Tahoe: Who Cares?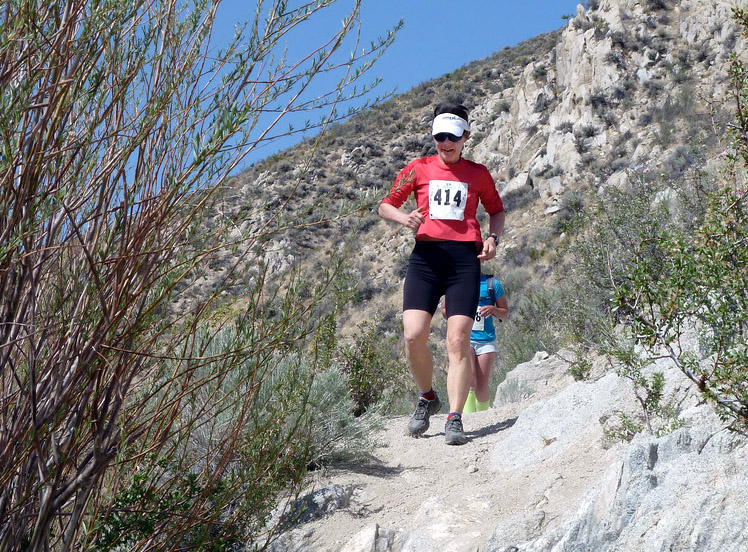 Trail running on Tahoe granite is much more fun than thinking about Radon! Yet, the rock is why Tahoe has such high Radon."
Yes, Lake Tahoe is a high Radon area. And, nobody really wants to think about Radon. There are so many other issues to attend to in life, and since you can't smell it, you can't see it and you can't feel it, then why worry about Radon?
Radon at Lake Tahoe is a concern for residents and workers. That's because Radon causes cancer. Therefore this section of TahoeHighSiera.com is devoted to letting you know what you can do to reduce your exposure to Radon at Lake Tahoe.
OK, so Radon is invisible, and it's dangerous, so what now? Run for the hills? But, hey! I'm already at Lake Tahoe, and a runner, too! So, let's get a little serious now.
The good news is that Radon is detectable. And, it's a manageable risk. This series will help you to learn about Radon, how to determine your risk from Radon, and how to manage your exposure to Radon. It's not very difficult really, to detect the level of Radon in your home or workplace using a Radon detector. And, a variety Radon mitigation measures are options you can DIY or have installed to cut down the Radon.
As reported by the California Geological Survey, which is the agency that studies Radon, Radon poses a significant risk to residents of the Lake Tahoe Basin, especially those on the South Shore.
The report Radon Potential in the Lake Tahoe Area, California states that an estimated 23,400 people in the Lake Tahoe area live in buildings where Radon is likely to equal or exceed the U.S. Environmental Protection Agency's recommended action level. Just ask El Dorado County's Department of Environmental Management, whose staff also sounds the warning about Radon at Lake Tahoe.
Why is Radon a concern? It's because Radon is the second leading cause of lung cancer, behind cigarette smoking.
The basement measurement of Radon from an example house in the California Geological Survey stufy was more than 20 times the EPA's recommended action level, according to the report. That's a big concern, because Radon exposure is the second leading cause of lung cancer in the nation.
According to the US Environmental Protection Agency and California Department of Public Health, "More and more, consumers are asking about Radon levels before they buy or rent a home."
This series is provided to inform about Radon at Lake Tahoe and beyond. On each page, you can view more by clicking on one of the navigation links below.
---
Find out if you have Radon...

Corentium Home Radon Detector
Portable Lightweight Easy-to-Use
---
Check out our review of the EPA's Guide to Radon.
---
Navigation: More Radon Information
---